A NEW AGE OF MOVIE MOMENTS WORTH PAYING FOR WITH EARLY MAN
It's time to join the tribe as Aardman and STUDIOCANAL'S brand new prehistoric comedy adventure EARLY MAN, is the latest film to receive an exclusive trailer from the Industry Trust's Moments Worth Paying For campaign, with the intention to combat film piracy.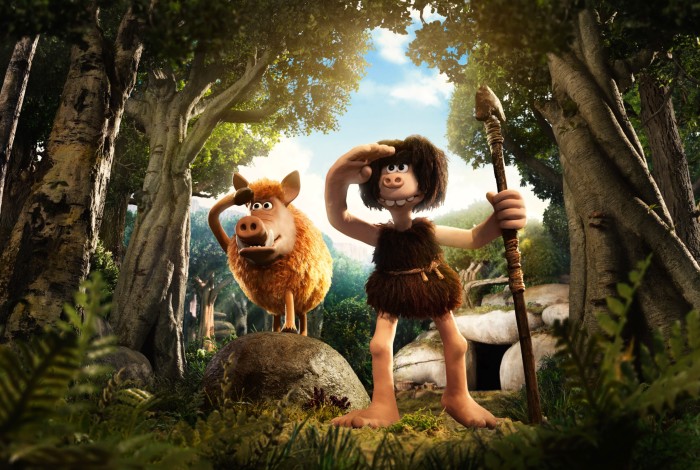 The trailer features never before seen footage made especially for the campaign, including the characters, plucky caveman Dug and his trusty friend Hognob using a tablet and visiting the cinema – highlighting that whether it's at home, on the move or in the cinema, a quality experience is worth paying for.
Directed by four-time Academy Award® winner Nick Park (Chicken Run, Wallace & Gromit), and set at the dawn of time, when prehistoric creatures roamed the earth, EARLY MAN tells the story of courageous caveman hero Dug (Eddie Redmayne), and his best friend Hognob, as they unite his tribe against a mighty enemy Lord Nooth (Tom Hiddleston) and his Bronze Age city to save their home.
The Industry Trust's consumer education campaign continues to deliver its core message: inspiring audiences to choose the big screen experience. Like others in the Moments Worth Paying For series, the trailer directs audiences to the industry-funded film search engine, FindAnyFilm.com, which signposts legal content sources, so they can book, buy and watch at their convenience.
James Gallagher, Senior Marketing Manager for The Industry Trust said: "We are delighted to be partnering with STUDIOCANAL again, with their continued support of copyright education and our Moments Worth Paying For campaign. It's been a joy to work alongside Aardman Studios, who have once again shown incredible endorsement of our message through the creation of this unique EARLY MAN trailer, which features specially created scenes that amplify our own messaging. It is a real testament to the Moments brand that we can acquire bespoke content like this and be able to create a trailer that delivers a strong anti-piracy message that is both in keeping with the humorous tone of the film whilst also educating family audiences in a much more engaging way."
Stuart Henderson, Head of UK Marketing at STUDIOCANAL, said: "The work that the Industry Trust does is hugely important to us, so it's a real pleasure to be working with them again on this campaign. Thanks to brilliant team at Aardman we have had great scope to create a piece that delivers the Moments Worth Paying For message without ever losing sight of a sense of fun, whilst also giving audiences a taste of what to expect from hilarious new characters and the world of EARLY MAN."
The EARLY MAN Moments Worth Paying For trailer will launch with a cinema campaign beginning on 29th Dec which is supported by online and outdoor activity (via Clear Channel and Primesight), ensuring the Industry Trust's messaging targets core infringers not only in the cinema but across a broad range of platforms, ensuring multiple touch-points for the campaign.
Early Man comes to UK cinemas on Friday 26th January 2018
Warning
: count(): Parameter must be an array or an object that implements Countable in
/home/industry/public_html/wp-content/themes/industry-trust/single-press-release.php
on line
45