Universal Pictures and Illumination Entertainment's DESPICABLE ME 2 Stars in the Next 'Moments Worth Paying For' Trailer
Download (94.1 Kb)
The minions celebrate the value of great film and TV moments in their own unique way in this latest build on the campaign.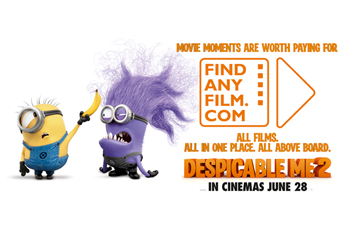 Despicable Me 2 'Moments Worth Paying For' trailer
The iconic yellow Minions of Despicable Me 2 are supporting the Industry Trust for IP Awareness' 'Moments Worth Paying For' campaign, by helping to tackle consumer confusion around legal and illegal online movie sources. By using their unique brand of irrepressible humour, the Minions shine a spotlight on the true value of official film and also help direct audiences to FindAnyFilm.com.
This is the second content trailer of the year for the campaign and has been created in collaboration with Universal Pictures UK. The Despicable Me 2 'Moments Worth Paying For' trailer launches in cinemas nationwide from April 26th for eight weeks.
This bespoke trailer builds on the success of the industry's flagship consumer education campaign and continues to inspire audiences on the value of official film, TV and video content whilst also addressing the continued challenge posed by piracy.
Despicable Me 2 is an all-new comedy adventure that will delight audiences and bring to life the value of shared experiences and movie moments that are worth paying for. As well as showcasing the unpredictably hilarious Minions at the heart of Despicable Me 2, the trailer highlights the many official ways of watching films and TV shows in the UK by directing viewers to FindAnyFilm.com.
Universal and Illumination's worldwide blockbuster Despicable Me entertained audiences around the globe in 2010, becoming the 10th-biggest animated motion picture in U.S. history. This summer, get ready for more Minion madness in Despicable Me 2.
Chris Meledandri and his acclaimed filmmaking team create an all-new comedy adventure featuring the return of (former?) super-villain Gru (Steve Carell), his adorable girls, the unpredictably hilarious Minions…and a host of new and outrageously funny characters.
Liz Bales
Director General, The Industry Trust
Our research shows that consumers can often be confused when it comes to purchasing film and TV online, so we're thrilled to be once again working with Universal Pictures UK to help address this issue. Especially when we know Parents are the audiences most confused, it's wonderful to be able to work with content that really engages and speaks to our key audiences. FindAnyFilm.com provides a wealth of official and safe ways to watch, so parents can be sure they're choosing official, including tons of digital services that can be accessed at the click of a button – perfect for catching up on Despicable Me before heading to the cinema for the eagerly-anticipated sequel.
Niels Swinkels
Managing Director UK and Eire,
Universal Pictures International
Despicable Me is Universal's premium animation franchise and audiences are hungry to see Gru and the Minions back in action this summer. We're delighted to be working with FindAnyFilm to integrate our top quality content in such an important educational message.
Joe Evea
Commercial Director, DCM
We are delighted to remain a key supporter of the industry in their continued efforts to tackle the issue of copyright infringement. As audience's consumptions change it's vital that all companies from across the sector remain committed to delivering consumer education and provide a cohesive message to consumers. Being able to support film and exhibition partners and carrying the trailers across our screens is important to us at Digital Cinema Media.
Chris Pelekanou
Commercial Director, Clear Channel
We are proud of our partnership with the Industry Trust and are delighted to support their latest 'Moments Worth Paying For' campaign. This is a fantastic way of inspiring film audiences to make the right choices to access film via official sources. Respect for Intellectual Property is fundamental to so many of our partners and our continued support to the Trust will ensure their message reaches the widest possible audience.
Despicable Me 2 will be released in UK cinemas nationwide on 28th June 2013. Associated Moments Worth Paying For activity will run in cinema, with outdoor and online to follow.
Warning
: count(): Parameter must be an array or an object that implements Countable in
/home/industry/public_html/wp-content/themes/industry-trust/single-press-release.php
on line
45