BRAND NEW BESPOKE CATS TRAILER UNVEILED BY THE INDUSTRY TRUST
The Industry Trust for IP Awareness and Universal Pictures International UK + Eire Limited will launch an exclusive bespoke Cats trailer featuring the star-studded cast of James Corden, Jason Derulo, Idris Elba, Jennifer Hudson and Taylor Swift.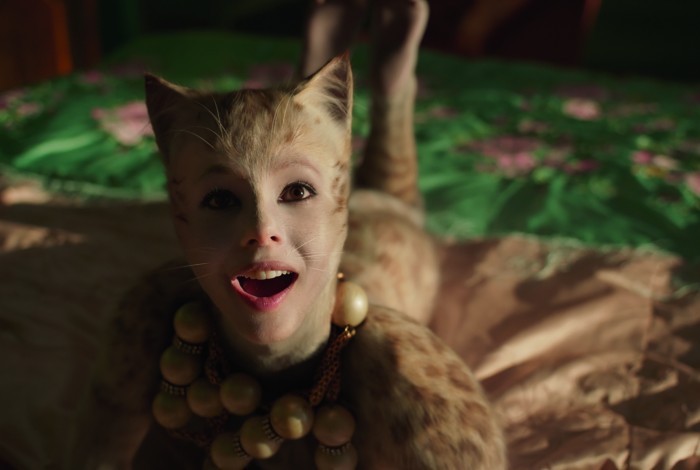 This is the first bespoke trailer The Industry Trust has launched for a musical movie, with stars highlighting what makes cinema worth paying for.
The bespoke trailer features a fresh look at the highly anticipated movie allowing the audience as Idris Elba explains to "step into a world that is completely designed to entertain you." The epic dancing, spectacular scale of the film's production and awe-inspiring visuals are something to be truly experienced in the cinema.
This December Oscar®-winning director Tom Hooper (The King's Speech, Les Misérables, The Danish Girl) transforms Andrew Lloyd Webber's record-shattering stage musical into a breakthrough cinematic event. Featuring Andrew Lloyd Webber's iconic music and a world-class cast of dancers under the guidance of Tony-winning choreographer Andy Blankenbuehler (Hamilton, In the Heights), the film reimagines the musical for a new generation with spectacular production design, state-of-the-art technology, and dance styles ranging from classical ballet to contemporary, hip-hop to jazz, street dance to tap.
"We are really excited to be launching this trailer as it is our first musical and we're hoping having a star-studded cast will help expand our reach to a new audience and create further interest in our main message that Cats is best seen when on the big screen," said Sylvia Dick Head of Audience Engagement.
"Cats is pure cinema spectacle and the movie is truly magic – from the elaborate sets, to the toe-tapping musical numbers, innovative production and the amazing star-studded ensemble cast. With the current resurgence in popularity of the musical genre, we felt a partnership with Universal Pictures International UK & EIRE would be a fantastic way to boost our message to its audience. "
Cats stars James Corden, Jason Derulo, Judi Dench, Idris Elba, Jennifer Hudson, Ian McKellen, Taylor Swift, Rebel Wilson, Ray Winstone and introduces Royal Ballet principal dancer Francesca Hayward in her feature film debut. The film also stars Robbie Fairchild (Broadway's An American in Paris), Laurie Davidson (TNT's Will), hip-hop dance sensation Les Twins (Larry and Laurent Bourgeois), acclaimed dancer Mette Towley (featured in videos for Rihanna and Pharrell Williams' N.E.R.D.), and Royal Ballet principal dancer Steven McRae.
Rob Huber, Managing Director, Universal Pictures UK + Eire Limited said: "We're delighted to partner with The Industry Trust on this exclusive piece for 'Cats', with such a magical musical movie making its way into cinemas this Christmas, it's incredibly important to encourage audiences to experience the epic performances, music and spectacular production designs on the biggest screen possible – at the cinema! We fully support the vital work that the Industry Trust does, and hope to encourage audiences to choose legal routes to watch the big screen moments that we all work so hard to create."
Universal Pictures presents in association with Perfect World Pictures, A Working Title and Amblin Entertainment Production, in association with Monumental Pictures and The Really Useful Group. Cats is produced by Debra Hayward, Tim Bevan, Eric Fellner and Tom Hooper.
This trailer is the latest release in The Industry Trust's Moments Worth Paying For campaign. Launched in November 2010, the campaign has worked with some of the biggest films in the industry over the last nine years, to help highlight why seeing films on the big screen is always the best option.
Cats is released in UK cinemas on 20th December 2019
Warning
: count(): Parameter must be an array or an object that implements Countable in
/home/industry/public_html/wp-content/themes/industry-trust/single-press-release.php
on line
45