RICKY GERVAIS CREATES ANTI-PIRACY AD FOR NEW FILM DAVID BRENT: LIFE ON THE ROAD
LONDON, 1st July 2016: The Industry Trust for IP Awareness and Entertainment One UK (eOne) today launched an exclusive DAVID BRENT: LIFE ON THE ROAD trailer that sees Ricky Gervais asking audiences not to pirate his new film in his typical deadpan style.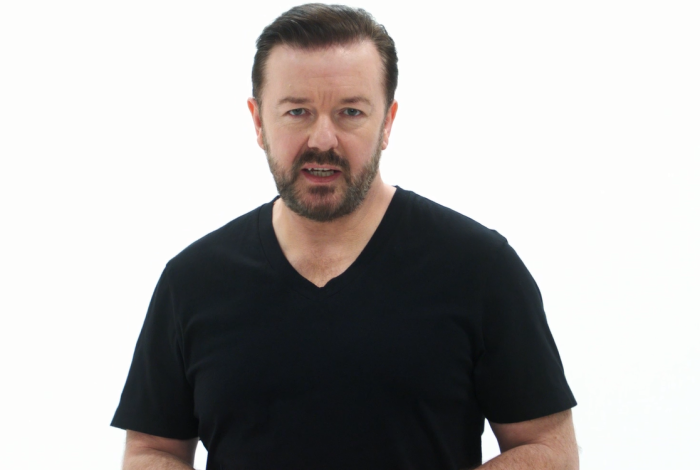 Starring Ricky Gervais as himself, the 35 second exclusive piece to camera delivers Ricky's own unique take on anti-piracy messaging, where he asks audiences not to pirate movies because the quality is bad and it affects many peoples' livelihoods. In his inimitable style he tells viewers to forsake saving themselves a few quid by pirating his films, and that they should go and watch it in the cinema instead in order for him to make millions.  The trailer forms part of the successful Moments Worth Paying For copyright education campaign.
Written, directed by and starring Ricky Gervais, DAVID BRENT: LIFE ON THE ROAD sees the highly anticipated big screen debut of one of comedy's best-loved characters, David Brent (Ricky Gervais). The film catches up with Brent twelve years on from the BBC mockumentary 'The Office' to find he is now a travelling salesman with Lavichem, a cleaning and ladies' personal hygiene products company. However, he hasn't given up on his dream of rock stardom and is about to embark on a self-financed UK tour with his band, 'Foregone Conclusion'.
The Industry Trust handed artistic control of the trailer to Gervais, who tore up the rule book and took the trailer spectacularly off-message as only he can. While the trailer is a light-hearted take on piracy, the reality is that in 2015, the top 20 titles made up, a total of 41%* of the total UK box office, meaning that a high percentage of films weren't seen by a lot of people. Piracy is detrimental to the film industry and without continued investment, it will be more difficult for independent and smaller studios to make films, reducing the choice for consumers. The Industry Trust's Moments Worth Paying For campaign continues to inspire audiences to respect the value of creative content by demonstrating that film, TV and video have an entertainment value worth paying for. The campaign also points consumers to legal film search-engine, FindAnyFilm.com, as a great starting point for enjoying legal films, across all formats. Ensuring audiences have the widest range of choice when it comes to watching their favourite content and to make the right decision.
Kezia Williams, Head of Theatrical Distribution at Entertainment One said: "We are pleased to have delivered this bespoke piece for the Industry Trust's 'Moments Worth Paying For' campaign. The exclusive footage is quite a departure from the regular 'Moments Worth Paying For' messaging and we certainly hope audiences will take Ricky's advice and choose to see DAVID BRENT: LIFE ON THE ROAD on the big screen!  We're delighted that Ricky has chosen to support this important cause and it has been great working with the Trust on the campaign."
Sylvia Wan, Digital Communications Manager at The Industry Trust for IP Awareness said: "It's been great working with Entertainment One UK and Ricky Gervais on the DAVID BRENT: LIFE ON THE ROAD trailer. Ricky wrote the trailer himself, so while it's a brave move away from our usual Moments Worth Paying For messaging, if anyone can do it, it's got to be Ricky. We hope the trailer will help open up the debate and get people talking about the challenge of film piracy."
The DAVID BRENT: LIFE ON THE ROAD Moments Worth Paying For trailer will show in cinemas from the 1st July 2016. The campaign will be supported by media activity across online and outdoor space, ensuring the campaign takes a fully integrated multi-media approach to target core infringers not only in cinema but across other platforms.
DAVID BRENT: LIFE ON THE ROAD hits UK cinemas on 19th August 2016.
Warning
: count(): Parameter must be an array or an object that implements Countable in
/home/industry/public_html/wp-content/themes/industry-trust/single-press-release.php
on line
45