Copyright education key to safeguarding future of film and TV
The changing UK film and TV piracy landscape is revealed in new figures released today, as key stakeholders from across the creative industries join representatives from government and academia at an event to discuss industry best practice in winning the hearts and minds of consumers through copyright education campaigns.
The CREATe Industry Copyright Education & Awareness Symposium will see policymakers, rights holders, educators and industry bodies from the worlds of film, TV, music and publishing debate and discuss the importance of research and evidence in supporting effective copyright education and agree a statement on how evidence and best practice can enhance industry efforts in the face of an ever evolving and often complex landscape.
UK film and TV infringement static
While the majority of consumers do the right thing by choosing to pay for authorised content or watching authorised content for free via sites like BBC iPlayer, figures revealed by The Industry Trust for IP Awareness show that 23% of those aged 16+ admit to accessing unauthorised film and TV content in the last year.
The research comes from The Industry Trust's annual campaign tracker conducted by ICM, which has been tracking trends in consumer behaviour and attitudes around authorised and unauthorised film and TV content alongside campaign evaluation since 2011. Whilst it shows UK film and TV piracy remains static, with the proportion of people accessing content illegally unchanged since 2014, there's no cause for industry celebration or complacency.
The changing face of film and TV piracy
A closer look at the figures show that the face of piracy is changing. Young men still make up the core group of infringers, but the gender gap is closing, and there's also a spike in younger people, aged 11-15, accessing more illegal content as they move more of their viewing online.
2015 was a record year for the audio-visual industry and digital services saw a tipping point as consumers took their love affair with film and TV content to a new level. Across the board digital services are blooming as consumers increasingly adopt the ever growing ways to watch at home and on the go. But such technological advances also present new threats as audiences are lured by the temptation of free content, or in some cases duped into using what they think are legitimate sites.
The motivators for those intentionally accessing illegal film and TV sites remain the same as ever – with ease of access (48%), price (46%), and social acceptability or the perception that they're not doing anything wrong (26%) given as the top three reasons for accessing content illegally.
Conversely, the motivators for choosing official paid for content are the big screen experience (36%), better quality (33%) and having a shared experience (28%). It's insights like these that continue to be a focus for consumer education campaigns run by The Industry Trust such as the successful Moments Worth Paying For trailers and FindAnyFilm.com – the industry-funded film and TV search engine.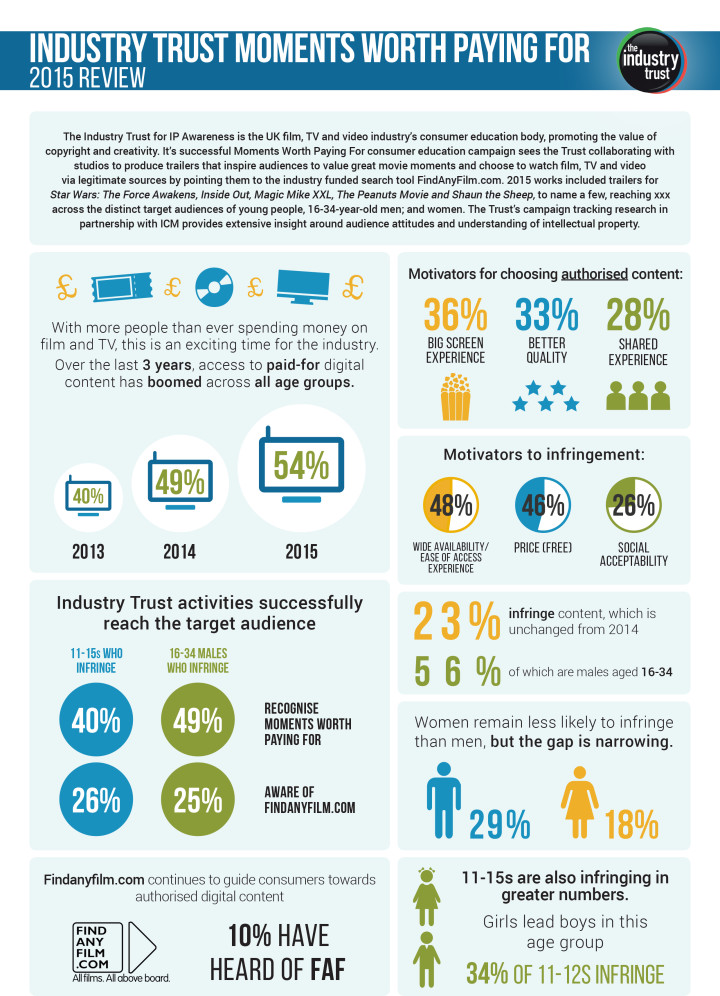 As Liz Bales, Chief Executive of The Industry Trust for IP Awareness explains: "We have been providing industry leading consumer insights on what motivates people to infringe copyright for the past ten years. In order to create copyright educations campaigns that actually change behaviour, we have to see things through the eye of the consumer and providing compelling evidence and research is key to this.
"Consumers are accessing more content across all formats than ever before showing the value they place on film and TV content. Some people are duped into using pirate sites due to confusion over what is and isn't legal, while others intentionally set out to access unauthorised content. Infringers are still huge film and TV fans, so it's incredibly important we use education to encourage moderation of their behaviour, instead of alienating them by pointing the finger.
"Crucially as an industry we need to be continuously nudging and signposting all audiences towards sources of legal content as they migrate their viewing online."
Encouragingly, The Industry Trust's activities continue to successfully reach its key audiences, with almost half (49%) of 16-34-year-old males recognising the Moments Worth Paying For campaign and 25% recognising FindAnyFilm.com.
Laura Byrne, Research Manager at ICM Unlimited said: "The Industry Trust puts insight and evidence at the heart of its decision-making, and since ICM came on board in 2011 we have kept a consistent measure of consumer behavior and campaign effectiveness. During that time, recognition of the Moments Worth Paying For campaign has grown incrementally and has achieved significant cut through with the target audience, encouraging their growing uptake of paid-for authorised content."
Warning
: count(): Parameter must be an array or an object that implements Countable in
/home/industry/public_html/wp-content/themes/industry-trust/single-press-release.php
on line
45