DWAYNE JOHNSON TALKS MOANA MOVIE MOMENTS WORTH PAYING FOR
LONDON. 14th October 2016. The Industry Trust for IP Awareness and The Walt Disney Company today launched a collaboration on the highly-anticipated animated feature film, Moana. In the latest installment in the Moments Worth Paying For campaign.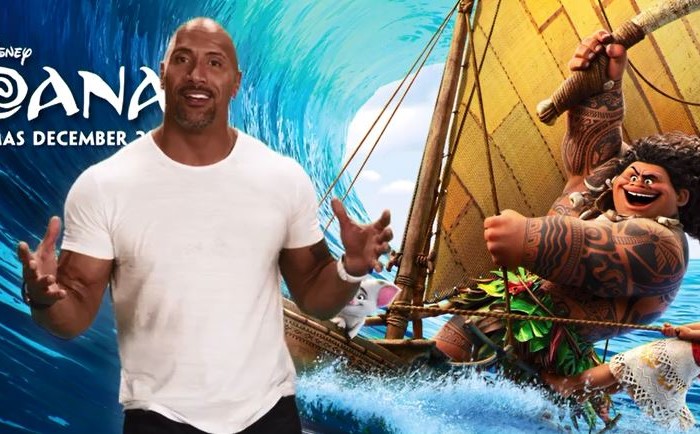 The 35" trailer, will run across cinema screens nationwide and features Dwayne Johnson speaking directly to the camera, as he shares with the audience what he thinks makes a great movie moment. According to Dwayne, it must look 'amazing', needs 'blood pumping action' and it has got to be watched with 'good friends'! Before concluding that at the end of it all, adventures as huge as Moana, always need the big screen and are best seen at the cinema.
Dwayne Johnson continues to support The Industry Trust's consumer education campaign, inspiring audiences to choose cinema and enjoy all those great movie moments worth paying for. The trailer goes on to direct audiences to industry-funded film and TV search engine, FindAnyFilm.com, which signposts them to legal content sources so they can book, buy and watch at their convenience. Recent research by ICM has identified that children as young as 11 are infringing so it's  increasingly important to reach a younger demographic to ensure they are inspired to choose official content, making the Moana trailer a great addition to the Industry Trust's 2016 education and awareness campaign.
Sylvia Dick, Head of Audience Engagement at The Industry Trust for IP Awareness said: "The Moments Worth Paying For campaign is now in its 5th year and it's great to see such continued support from all our distributor partners. It is testament to the campaign and it's inspirational message that we're able to secure high-profile talent such as Dwayne Johnson to feature in not only one, but two of the trailers across this year. This collaboration is a great addition to this year's campaign as we know it's important to inspire young audiences to choose official film and TV before they reach the tipping point into infringement. Moana is all about big adventures and it's great to see Dwayne Johnson deliver our 'big screen' messaging in a way that will resonate with children, parents and audiences alike."
Lee Jury, Vice President Marketing. Co-Head of Studios, at The Walt Disney Studios EMEA and UK said: "Moments Worth Paying For continues to be an impactful campaign that inspires audiences. We are really pleased to be collaborating with the Industry Trust again and are delighted that we could get Dwayne Johnson on board. Our aim is for the trailer to deliver the Industry Trust's core message, encouraging audiences of all ages to join Moana in cinemas this December for some great moments worth paying for. The Industry Trust's educational work is vital to the film industry and we hope to keep inspiring audiences to pay to watch the content they love."
The Moana Moments Worth Paying For trailer launches in cinema ad reels from the 14th October and will be supported by activity across outdoor through our partners Clear Channel and Primesight ensuring the Industry Trust's messaging targets core infringers not only in the cinema but also across other platforms.
Three thousand years ago, the greatest sailors in the world voyaged across the vast Pacific, discovering the many islands of Oceania. But then, for a millennium, their voyages stopped – and no one knows why. From Walt Disney Animation Studios comes Moana, a sweeping, CG-animated feature film about an adventurous teenager who sails out on a daring mission to save her people. During her journey, Moana (voice of Auli'i Cravalho) meets the once-mighty demigod Maui (voice of Dwayne Johnson), who guides her in her quest to become a master wayfinder. Together, they sail across the open ocean on an action-packed voyage, encountering enormous monsters and impossible odds, and along the way, Moana fulfills the ancient quest of her ancestors and discovers the one thing she's always sought: her own identity.
Join Moana on her voyage when she sails into cinemas on December 2nd 2016.
Warning
: count(): Parameter must be an array or an object that implements Countable in
/home/industry/public_html/wp-content/themes/industry-trust/single-press-release.php
on line
45