EPIC ACTION MOMENTS WITH FAST & FURIOUS: HOBBS & SHAW
In advance of the film's theatrical release, Universal Pictures has teamed up with The Industry Trust's Moments Worth Paying For campaign to create an exclusive trailer to combat film piracy.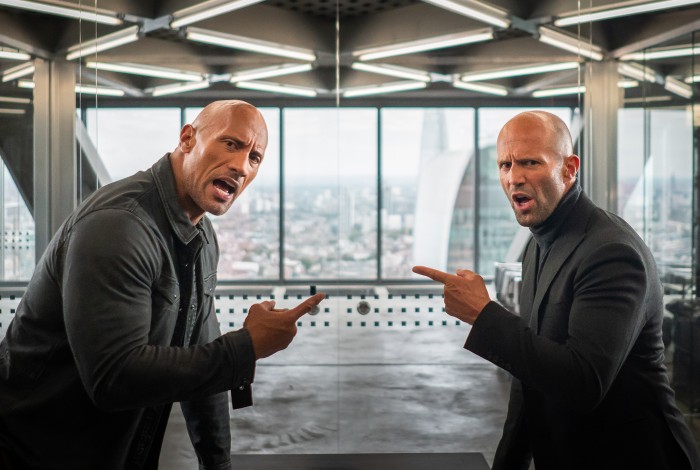 Buckle up… After eight films that have amassed almost $5 billion worldwide, the Fast & Furious franchise now features its first stand-alone vehicle as Dwayne Johnson and Jason Statham reprise their roles as Luke Hobbs and Deckard Shaw in Fast & Furious: Hobbs & Shaw.
In the exclusive trailer, featuring Johnson and fellow cast member Eiza González, the pair talk about the incredible gravity defying stunts and how the film takes the action to a whole new level. With over 30 gravity defying stunts, over 120 global stunt performers and over 500 kicks and punches, the film delivers epic action moments that are best seen on the big screen.
Like the others in the Moments Worth Paying For series, the trailer directs audiences to the industry-funded film search engine, FindAnyFilm.com, which signposts legal content sources, so they can book, buy and watch at their convenience.
Ever since hulking lawman Hobbs (Johnson), a loyal agent of America's Diplomatic Security Service, and lawless outcast Shaw (Statham), a former British military elite operative, first faced off in 2015's Fast & Furious 7, the duo have swapped smack talk and body blows as they've tried to take each other down.
But when cyber-genetically enhanced anarchist Brixton (Idris Elba) gains control of an insidious bio-threat that could alter humanity forever — and bests a brilliant and fearless rogue MI6 agent (The Crown's Vanessa Kirby), who just happens to be Shaw's sister — these two sworn enemies will have to partner up to bring down the only guy who might be badder than themselves.
Sylvia Dick, Head of Audience Engagement, The Industry Trust said: "Being able to work with Universal on a movie as epic and jaw-dropping as 'Fast & Furious: Hobbs & Shaw' is truly incredible, as the film is full of high octane, action-packed moments that really are best seen first on the big screen. With an engaged fan base from the Fast & Furious franchise and such a wide appeal, the film allows us to hit the 16-34 male demographic, who are continued key infringers. We're so excited to welcome back Dwayne Johnson to the campaign, who has previously starred in three of our trailers; it's a real testament to the cause that we have A-list talent backing our message and helping to inspire as many people as possible to choose official channels to watch their film and television content."
Karen Charalambous, Group Marketing Director, Universal Pictures UK said: "Once again we're delighted to partner with The Industry Trust on this exclusive piece for 'Fast & Furious: Hobbs & Shaw', starring Dwayne Johnson and Eiza González. With such an exhilarating movie full of action-packed moments making its way to screens this summer, it's incredibly important to encourage audiences to experience the action in the biggest and best way possible; in the cinema! We fully support the vital work that the Trust does, and hope to encourage audiences to choose legal routes to watch the big screen moments that we all work so hard to create."
Fast & Furious: Hobbs & Shaw releases in UK cinemas on 1st August 2019.
Warning
: count(): Parameter must be an array or an object that implements Countable in
/home/industry/public_html/wp-content/themes/industry-trust/single-press-release.php
on line
45