EPIC MOMENTS WORTH PAYING FOR WITH JURASSIC WORLD: FALLEN KINGDOM
Don't move a muscle! Chris Pratt and Bryce Dallas Howard star in an exclusive trailer for summer blockbuster JURASSIC WORLD: FALLEN KINGDOM, the latest film to support the Industry Trust's Moments Worth Paying For campaign.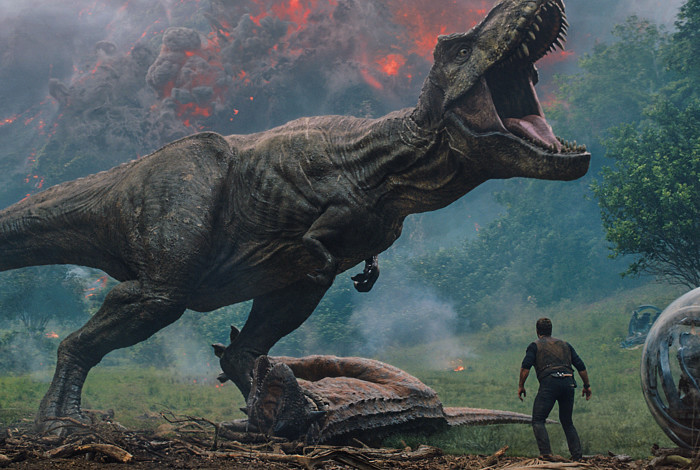 In the exclusive piece to camera, Chris Pratt and Bryce Dallas Howard emphasise how dinosaurs are the biggest creatures to have ever walked the earth and to really appreciate them you need to see them on the big screen. From nail-biting chases to narrow escapes, these mammoth adventures are worth paying for.
It's been four years since theme park and luxury resort Jurassic World was destroyed by dinosaurs out of containment. Isla Nublar now sits abandoned by humans while the surviving dinosaurs fend for themselves in the jungles. When the island's dormant volcano begins roaring to life, Owen (Chris Pratt) and Claire (Bryce Dallas Howard) mount a campaign to rescue the remaining dinosaurs from this extinction-level event. Owen is driven to find Blue, his lead raptor who's still missing in the wild, and Claire has grown a respect for these creatures she now makes her mission. Arriving on the unstable island as lava begins raining down, their expedition uncovers a conspiracy that could return our entire planet to a perilous order not seen since prehistoric times. With all of the wonder, adventure and thrills synonymous with one of the most popular and successful series in cinema history, this all-new motion-picture event sees the return of favourite characters and dinosaurs—along with new breeds more awe-inspiring and terrifying than ever before.
The Industry Trust's consumer education campaign continues to deliver the core message – inspiring audiences to choose the big screen experience. Like the others in the Moments Worth Paying For series, the trailer directs audiences to the industry-funded film search engine, FindAnyFilm.com, which signposts legal content sources, so they can book, buy and watch at their convenience.
Karen Charalambous, Group Marketing Director, Universal Pictures UK said: "We're delighted to partner with the Industry Trust on this exclusive piece for Jurassic World: Fallen Kingdom starring Chris Pratt and Bryce Dallas Howard. With action packed and thrilling movies like Jurassic World: Fallen Kingdom making their way to screens this summer, it's incredibly important to encourage audiences to experience these films the way they were intended, in the cinema, by working with the Moments Worth Paying For campaign."
James Gallagher, Senior Marketing Manager, The Industry Trust said: "Being able to work with Universal on a title like 'Jurassic World: Fallen Kingdom' is truly incredible, as the film is full of unmissable, action-packed and thrilling moments that are truly worth paying for. It is a real testament to the campaign as we continue to secure A-list talent to help push our message to as many people as possible. With such a wide appeal, one of this summer's biggest blockbusters is allowing us to hit multiple target audiences including 16-34 males and families, who are key infringers. It's important that the campaign continues to secure exclusive bespoke content and contributions from talent like this as it really resonates with these key audiences groups. Epic adventure films like 'Jurassic World: Fallen Kingdom' deserve to be viewed on the big screen, alongside friends and family. This trailer is a great way to kick off the seventh year of the Moments Worth Paying For campaign, as we continue to inspire cinema-goers of all ages to choose official film and TV."
Jurassic World: Fallen Kingdom comes to UK cinemas on June 6, 2018.
Warning
: count(): Parameter must be an array or an object that implements Countable in
/home/industry/public_html/wp-content/themes/industry-trust/single-press-release.php
on line
45