FAMILY MOMENTS WORTH PAYING FOR WITH DISNEY'S CHRISTOPHER ROBIN
Family favourite characters Winnie the Pooh, Tigger, Eeyore, Piglet, Owl, Rabbit and Kanga come to life, as Disney's "Christopher Robin" bounces onto the screen this summer. Disney have teamed up with the Industry Trust to create an exclusive trailer for the live action adventure as part of the Moments Worth Paying For campaign, to combat film piracy.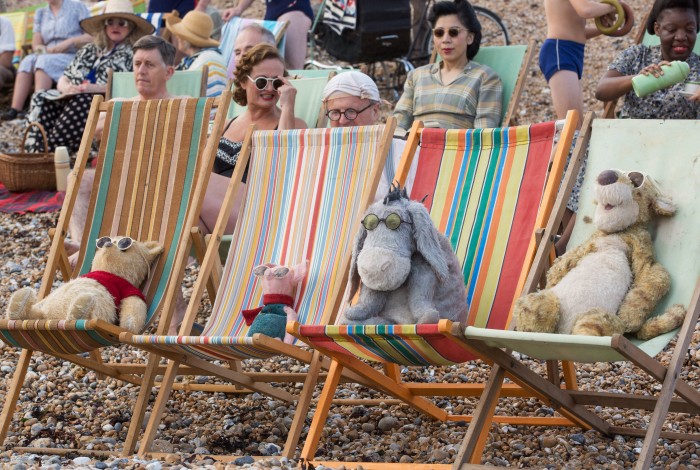 The trailer features brand new, never seen before footage made especially for the campaign, where Pooh stars in a behind the scenes interview telling fans that he too enjoys watching films on the big screen, with the key message that bringing the whole family together for a trip to the cinema, are always moments worth paying for.
In the heart-warming live action adventure Disney's "Christopher Robin," the young boy who embarked on countless adventures in the Hundred Acre Wood with his band of spirited and lovable stuffed animals, has grown up and lost his way. Now it is up to his childhood friends to venture into our world and help Christopher Robin remember the loving and playful boy who is still inside.
Disney's "Christopher Robin" is directed by Golden Globe® nominee Marc Forster ("Finding Neverland") and stars Golden Globe winner Ewan McGregor ("Fargo") as Christopher Robin; Golden Globe nominee Hayley Atwell ("Agent Carter") as his wife Evelyn; Bronte Carmichael as his daughter Madeline; and Emmy® winner Mark Gatiss ("Sherlock") as Keith Winslow, Robin's boss. The film also features the voices of: Jim Cummings ("Winnie the Pooh") as Winnie the Pooh; Chris O'Dowd ("Miss Peregrine's Home for Peculiar Children") as Tigger; three-time Emmy winner Brad Garrett ("Everybody Loves Raymond") as Eeyore; Golden Globe nominee Toby Jones ("Harry Potter and the Chamber of Secrets") as Owl; Nick Mohammed ("The Martian") as Piglet; Oscar winner Peter Capaldi ("Dr. Who") as Rabbit; and Oscar nominee Sophie Okonedo ("The Secret Life of Bees") as Kanga.
The Industry Trust's consumer education campaign continues to deliver the core message – inspiring audiences to choose the big screen experience. Like the others in the Moments Worth Paying For series, the trailer directs audiences to the industry-funded film search engine, FindAnyFilm.com, which signposts legal content sources, so they can book, buy and watch at their convenience.
Lee Jury, Managing Director UK & Ireland, Walt Disney Studios Motion Pictures said: "Our latest collaboration with the Industry Trust perfectly delivers the message to family audiences that the films they love should be seen together on the big screen. Christopher Robin is a film full of 'Moments Worth Paying For' – a journey of escapism filled with love, laughter and huge emotion and we can't wait for audiences to get reacquainted with Winnie the Pooh, Eeyore and the rest of the gang on 17th August."
James Gallagher, Senior Marketing Manager, The Industry Trust said: "We're delighted to be working with Walt Disney Studios once again and partnering up with Christopher Robin, which features characters beloved by audiences of all ages. The ongoing mission of 'Moments Worth Paying For' is to highlight the movie going experience as a shared activity and that the big screen is the best way to watch the latest release. Christopher Robin is a movie that the whole family can enjoy, across nostalgic parents and children alike, and is the perfect title to help drive families away from pirating content and encourage them towards the many legal ways in which they can access creative content from cinema to the home. Having Jim Cummings as the voice of Pooh providing a unique voiceover for our trailer adds authenticity and helps promote our need for talent to help push the anti-piracy message."
Disney's "Christopher Robin" will be released the in UK on the 17th August, 2018
Warning
: count(): Parameter must be an array or an object that implements Countable in
/home/industry/public_html/wp-content/themes/industry-trust/single-press-release.php
on line
45