FUN-FILLED FAMILY MOMENTS WORTH PAYING FOR WITH MISSING LINK
Things are about to get hairy as Lionsgate's animated adventure of legendary proportions, Missing Link bounds onto the big screen this April. From the award winning LAIKA studios, this fun-filled family film is the latest to receive an exclusive trailer as part of the Industry Trust's Moments Worth Paying For campaign, to combat film piracy.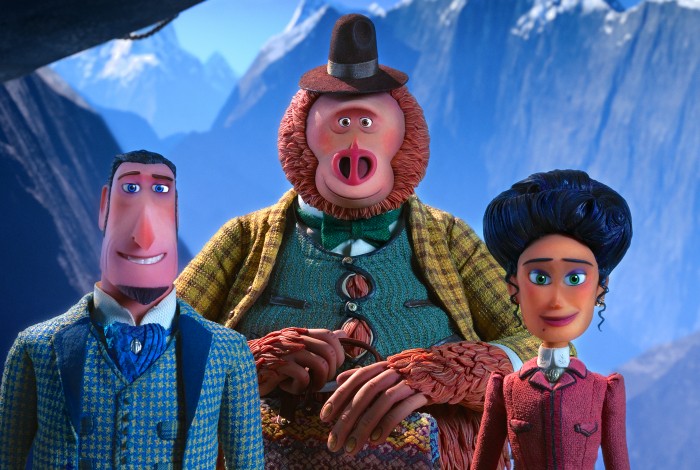 The trailer features brand new, never seen before footage, showcasing the hilarious and heart-warming moments in the film and reminding families that sharing unforgettable moments all together at the cinema, are always moments worth paying for.
Hugh Jackman is Sir Lionel frost: a brave and dashing adventurer who considers himself to be the world's foremost investigator of myths and monsters. The trouble is, no one else seems to agree. He sees a chance to prove himself by traveling to America's Pacific Northwest to discover the world's most legendary creature. A living remnant of Man's primitive ancestry. The Missing Link.
Zach Galifianakis is Mr. Link: the slightly silly, surprisingly smart and soulful beast who Sir Lionel discovers. As species go, he's as endangered as they get; he's possibly the last of his kind, he's lonely, and he believes that Sir Lionel is the one man alive who can help him. Together they set out on a daring quest around the world to seek out Link's distant relatives in the fabled valley of Shangri-La.
Along with the independent and resourceful Adelina Fortnight (Zoe Saldana), who possesses the only known map to the group's secret destination, the unlikely trio embarks on a riotous rollercoaster ride of a journey. Along the way, our fearless explorers encounter more than their fair share of peril, stalked at every turn by dastardly villains seeking to thwart their mission. Through it all, Mr. Link's disarming charm and good-humoured conviction provide the emotional and comedic foundation of this fun-filled family movie.
The Industry Trust's consumer education campaign continues to deliver the core message – inspiring audiences to choose the big screen experience. Like the others in the Moments Worth Paying For series, the trailer directs audiences to the industry-funded film search engine, FindAnyFilm.com, which signposts legal content sources, so they can book, buy and watch at their convenience.
Simon Dunstan, Senior Promotions Manager, Lionsgate UK said: "We have a longstanding history in partnering with the Industry Trust on their exclusive Moments Worth Paying For trailer and we're delighted that "Missing Link" will be the latest film featured in this incredibly important initiative that encourages cinema goers to experience movies as intended. Missing Link, from LAIKA studios is a lavish, stylish adventure for the whole family to enjoy in cinemas this Easter. "
Sylvia Dick, Head of Audience Engagement, The Industry Trust said: "In recent years, developments in technology have created new ways for audiences to infringe. Illicit streaming devices (ISD's) have exposed an increased number of parents to pirated film & TV content, a third of whom have children under 10. Therefore working with Lionsgate on an incredibly fun and family spirited title like Missing Link is extremely important for us, as the aim of the campaign is to highlight the movie-going experience as a shared activity which truly is worth paying for."
Missing Link is released in UK cinemas on 5th April 2019
Warning
: count(): Parameter must be an array or an object that implements Countable in
/home/industry/public_html/wp-content/themes/industry-trust/single-press-release.php
on line
45