Industry Trust and Walt Disney Studios UK launch Moments Morth Paying For "Iron Man 3" trailer
Download (359.3 Kb)
Trailer builds on industry's flagship consumer education campaign – celebrating the value of great film and TV moments.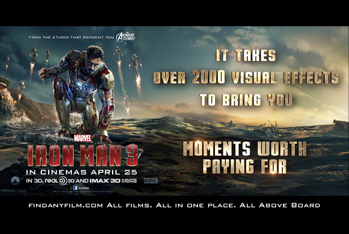 Iron Man 3 'Moments Worth Paying For' trailer
On Friday 29th March the Industry Trust for IP Awareness and Walt Disney Studios UK launched a unique Iron Man 3 trailer that celebrates the value of great movie moments and addresses the continued challenge posed by piracy.
Running in cinemas nationwide over a 4 week period from the 29th March, the exclusive trailer builds on the success of the Industry Trust's Moments Worth Paying For campaign, which inspires respect for the value of official film, TV and video content. Independent research conducted by ICM shows that exposure to Moments Worth Paying For makes illegal downloaders more than twice as likely to pay for official film, TV and video.
With Iron Man 3 boasting over 2,000 spectacular visual effects jaw-dropping stunt sequences, the new trailer brings to life the technical brilliance that goes into creating a movie experience worth paying for. As well as illustrating technical achievements at the heart of Iron Man 3, the trailer highlights the many official ways of watching films and TV shows in the UK by directing viewers to FindAnyFilm.com
We're delighted to be working with Walt Disney on the latest film in the Marvel franchise. The continued support of Disney and all the Trust's member organisations from across exhibition, distribution and retail, plays a vital role in the ongoing success of the industry's Moments Worth Paying For campaign. The enormous fan following for IRON MAN 3 will help ensure that our work to inspire and inform film fans about the value of movie moments and the wealth of official film, TV and video services available reaches audiences right across the country. With support from partnerships with Clear Channel, DCM and Pearl and Dean we're able to ensure the campaign not only has reach but also scale.
Lee Jury
The Walt Disney Company EMEA and UK
Marvel film and comic fans completely understand the time and effort that goes into turning the stories they love into full length feature films as is the case with Iron Man 3. At Disney, we're committed to supporting consumer awareness campaigns to tackle copyright infringement, so we're delighted to be working with the Industry Trust to inspire audiences about the value of film and showcase the technical wizardry involved in making the movie moments film fans love.
Howard Warren
Pearl and Dean
The Moments Worth Paying For campaign has been embraced by cinema audiences, delivering real impact in shifting attitudes to piracy, as independent tracking research shows. This industry initiative is unique in its flexibility – by collaborating on a range of new releases across the year and delivering across multiple media channels all stakeholders in the industry are able to play a part. At Pearl and Dean, we're proud to support our film and exhibition partners in tackling the challenge of piracy by carrying the trailers in cinema.
Chris Pelekanou
Clear Channel
We are proud of our partnership with the Industry Trust and are delighted to support their latest 'Moments Worth Paying For' campaign. This is a fantastic way of inspiring film audiences to make the right choices to access film via official sources. Respect for Intellectual Property is fundamental to so many of our partners and our continued support to the Trust will ensure their message reaches the widest possible audience.
Iron Man 3 will be released in cinemas nationwide on 25th APRIL 2013. Associated Moments Worth Paying For activity will run in cinema, outdoor and online.
Warning
: count(): Parameter must be an array or an object that implements Countable in
/home/industry/public_html/wp-content/themes/industry-trust/single-press-release.php
on line
45