The Industry Trust launches brand new Star Wars Trailer!
LONDON, 9th December 2015: The Industry Trust for IP Awareness has launched a Star Wars: Made GREAT in Britain 55" trailer as part of its Moments Worth Paying For campaign.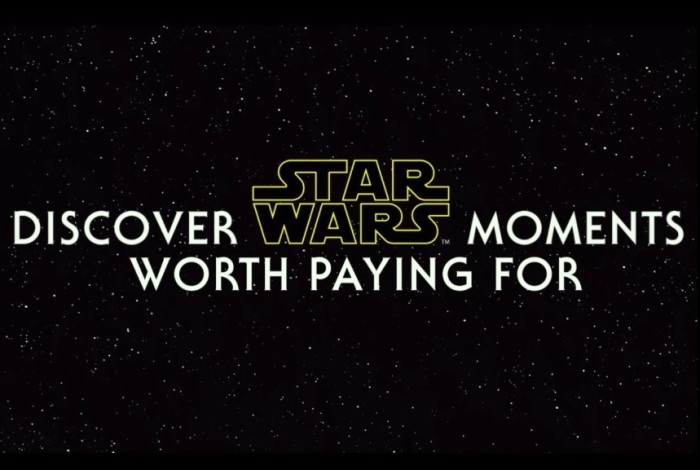 Star Wars: The Force Awakens - Brand New Moments Trailer!
The inspiring new trailer champions UK creativity and celebrates why the big screen experience is worth paying for, launches in cinemas courtesy of the UK Cinema Association, from December 9th 2015.
This trailer launches the unique collaboration between UK Government's GREAT Britain campaign, Disney and Lucasfilm that celebrates the British inspiration, creativity and innovation involved in the Star Wars saga ahead of the December 17th UK cinema release of the highly anticipated Star Wars: The Force Awakens.
The Industry Trust has its own pedigree of running not only successful but impactful copyright education campaigns. Moments Worth Paying For has a proven track record for inspiring film fans to support the films and TV shows they love whilst highlighting how easy it is to enjoy an official experience by directing viewers to the UK's film and TV search engine, FindAnyFilm.com.
Lee Jury, Co-Head of Studio and VP Marketing, UK and EMEA – The Walt Disney Studios, said: "Disney is committed to investing in the UK's creative industries and Star Wars: Episode VII – The Force Awakens is the latest example of this, contributing some £150 million to the UK economy. By partnering with the Industry Trust as part of the GREAT campaign, we have an opportunity to inspire audiences about the vital part they too can play in supporting UK creativity, every time they choose to purchase a cinema ticket."
Liz Bales, Chief Executive of the Industry Trust for IP Awareness, said: "Star Wars: The Force Awakens is one of the most hotly anticipated films of the year so it's a great honour to be supporting Disney and the GREAT Britain campaign. We expect the trailer to be one of the most influential to-date within the Moments Worth Paying For campaign – inspiring audiences old and new to make the right choice by paying to watch the film in the way it was meant to be seen – at the cinema."
Phil Clapp, Chief Executive at UK Cinema Association, said: "This unique collaboration is a landmark moment. Those who will have seen the original Star Wars films at the cinema will remember queues out the door for tickets. Today the anticipation of being amongst the first to enjoy Star Wars: The Force Awakens in all its glory on the big screen is just as high. The industry is responding to the demand reflected by the advanced tickets sales with a number of cinemas staying open for 24 hours with screenings throughout the night in the film's week."
Warning
: count(): Parameter must be an array or an object that implements Countable in
/home/industry/public_html/wp-content/themes/industry-trust/single-press-release.php
on line
45