In cinemas now, visitors to UK cinemas will be the first to see a high impact film trailer designed to inspire greater respect for copyright and the value of film and TV content.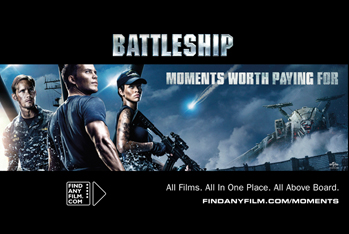 The special trailer, produced by Universal Pictures, uses content from Universal's 2012 blockbuster release, BATTLESHIP – out 11th April and shows the range and intensity of emotions audiences will experience when seeing the film in cinemas.
The first of a series of title specific adverts, the campaign builds on the success of the 'Moments Worth Paying For' campaign, launched by the Industry Trust for IP Awareness last year, which aimed to win hearts and minds in the continued challenge posed by copyright infringement.
Edited with film content, the trailer turns the camera on the viewer to capture the emotions that watching film and TV can evoke – and positions these as "Moments worth paying for".
The Battleship/Moments Worth Paying For collaboration will consist of a 30 second spot to be shown in all cinemas across the UK for 4 weeks over an 8 week period to 10th May.
Additionally, a supporting poster will be showcased on over 500 outdoor sites across the UK over a 2 week period. The campaign will also highlight the wealth of official ways to watch film and TV by directing viewers to Findanyfilm.com – a gateway to official film and TV services across a range of formats, both on and offline.
Niels Swinkels, Managing Director of Universal Pictures UK said
We are proud to collaborate with the Industry Trust and support their 'Moments Worth Paying For' campaign. Showcasing our summer blockbuster Battleship, the message reinforces the notion that films like this are made to be seen on the big screen and deepens cinemagoers' understanding that their support is essential for us to continue to deliver such unique experiences.
Liz Bales, Director General of the Industry Trust for IP Awareness said:
After the success of last years 'Moments' campaign, we're delighted to take this step forward and work with Universal Pictures on such a fantastic title. Using new release content to engage with our audience on the important issue of copyright infringement is a proven approach embraced by both the film and TV industries. We feel certain it will provide great benefits to the marketing of the release while continuing the great strides made in change attitudes and consumer behavior around copyright theft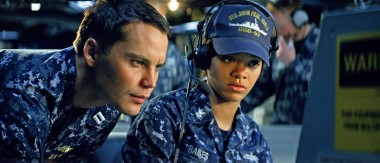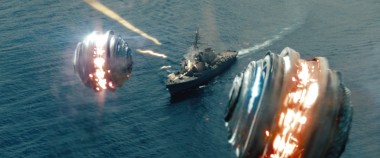 Warning
: count(): Parameter must be an array or an object that implements Countable in
/home/industry/public_html/wp-content/themes/industry-trust/single-press-release.php
on line
45