IMMERSE YOURSELF IN MOMENTS WORTH PAYING FOR IN ALITA: BATTLE ANGEL
Get ready to unlock a new world in Twentieth Century Fox's ALITA: BATTLE ANGEL, an epic adventure of hope and empowerment from visionary filmmakers James Cameron (AVATAR) and Robert Rodriguez (SIN CITY) and the latest film to receive an exclusive trailer for Industry Trust's Moments Worth Paying For campaign.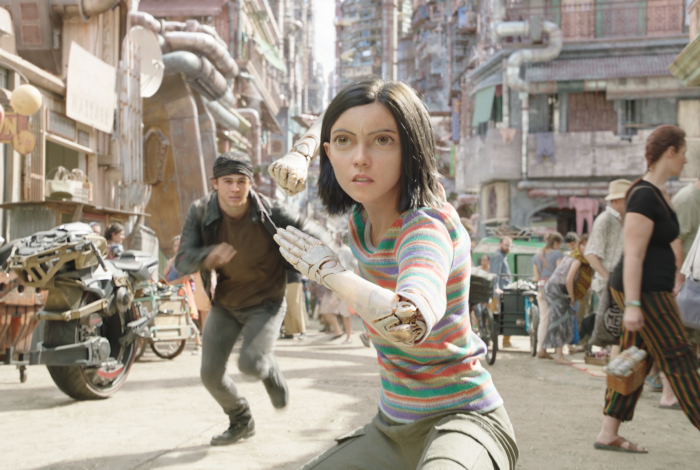 "You can't bring a story like Alita to life without pushing boundaries," says producer/co-writer Cameron, who presents the piece to camera. He talks through the state-of-the-art projection, cutting edge visual effects and incredible sound in the action-packed film, and how seeing it on the big screen is the only way to experience a movie of Alita's scale and heart.
When Alita (Rosa Salazar) awakens in a future world she does not recognise, with no memory of who she is, she is taken in by Ido (Christoph Waltz), a compassionate doctor who realises that somewhere in this abandoned cyborg shell is the heart and soul of a young woman with an extraordinary past. As Alita learns to navigate her new life and the treacherous streets of Iron City, Ido tries to shield her from her mysterious history while her street-smart new friend Hugo (Keean Johnson) offers instead to help trigger her memories. But it is only when the deadly and corrupt forces that run the city come after Alita that she discovers a clue to her past – she has unique fighting abilities that those in power will stop at nothing to control. If she can stay out of their grasp, she could be the key to saving her friends, her family and the world she's grown to love.
The Industry Trust's consumer education campaign continues to deliver the core message – inspiring audiences to choose the big screen experience. Like the others in the Moments Worth Paying For series, the trailer directs audiences to the industry-funded film search engine, FindAnyFilm.com, which signposts legal content sources, so they can book, buy and watch at their convenience.
Sylvia Dick, Head of Audience Engagement, The Industry Trust said: "Being able to work with Twentieth Century Fox and get access to James Cameron on a title like Alita: Battle Angel is a fantastic opportunity for us to reach 16 – 34 males, who we know are the core infringers, with our message. The film is crammed with action-packed and visually stunning moments that are truly worth paying for. Our goal with this trailer was to highlight the state of the art projection, cutting-edge effects and the incredible sound design of Alita directly from the filmmaker to appeal to the 16 – 34 male audience and inspire them to make the right choice, by paying to watch the film in the way it was meant to be seen – on the big screen."
Chris Green, UK Managing Director, Twentieth Century Fox said: "We're thrilled to partner with the Industry Trust on this exclusive Moments Worth Paying For trailer for Alita: Battle Angel, starring the visionary filmmaker James Cameron. With so many amazing films on their way in 2019, including the action-packed and visually stunning Alita, we want to do all we can to encourage audiences to view them the way they were intended, in the very best quality on the big screen at the cinema."
Alita: Battle Angel comes to UK cinemas on February 6, 2019.
Warning
: count(): Parameter must be an array or an object that implements Countable in
/home/industry/public_html/wp-content/themes/industry-trust/single-press-release.php
on line
45