London Film Festival hosts a FindAnyFilm event
Edith Bowman hosts a London Film Festival debate on piracy, with industry spokespeople, film blogs and trade media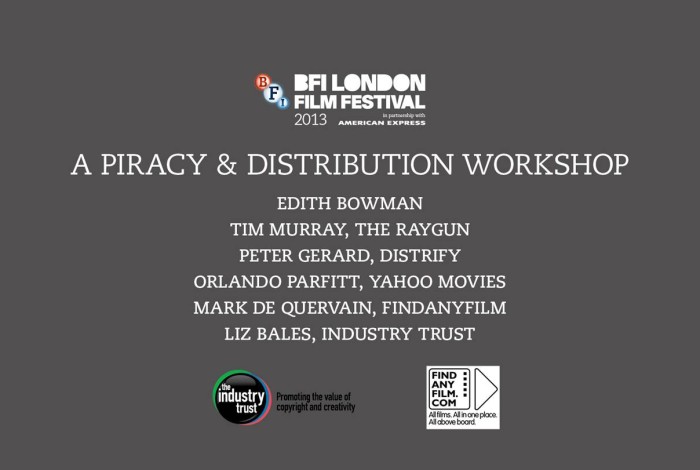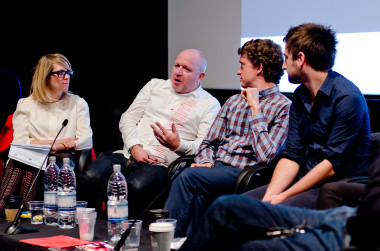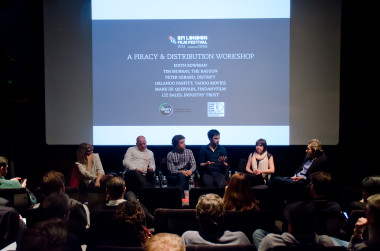 At the London Film Festival we get to sample and celebrate the creativity which is at the heart of the UK's film industry. But the film industry is more than the films themselves and those directly involved in the production. The industry is comprised of an array of stakeholders, all the way through the chain, from conception to sale, to the audiences who love films, and those who promote films and get involved in the appreciation of films.
The Industry Trust held an event as part of the London Film Festival industry programme, inviting along trade media and film blogs to debate piracy, and to showcase recent developments with the FindAnyFilm website.
The event also premiered the 'Vin Diesel's Socks' trailer, co-created by Industry Trust and Film Nation UK, and produced by My Pockets, to start the conversations about copyright with young audiences at the National Youth Film Festival.
London Film Festival event premieres Film Nation and Industry Trust trailer
Film Nation and the Industry Trust for IP Awareness are collaborating on a new education campaign to inspire young people to make positive choices when accessing film, TV, and video by choosing official content. By bringing together the unique expertise and experience of Film Nation and the Industry Trust, the project aims to make a significant impact on young people's attitudes and behaviour in relation to copyright infringement.
My Pockets have created a short film for young people to bring to life the importance of making positive choices when accessing film, TV and video for Film Nation in collaboration with The Industry Trust. The film is designed to tackle the issue of film piracy in an open and honest way, highlighting the craft and hard work that goes into creating films and TV therefore helping young people make the connection as to why content should be accessed legally and officially. My Pockets worked with teenagers to capture real voices, involving them in the recording audio, making puppets, shooting the film and the edit to help them get under the skin of the various aspects that are involved in filmmaking.
The short film will play at the National Youth Film Festival which runs from 21st October to 8th November.
Warning
: count(): Parameter must be an array or an object that implements Countable in
/home/industry/public_html/wp-content/themes/industry-trust/single-campaign.php
on line
60